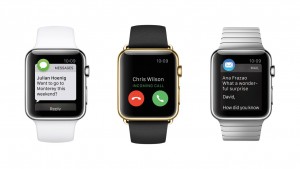 According to Apple, their new Apple Watch will be available in nine countries (Australia, Canada, China, France, Germany, Hong Kong, Japan, United Kingdom, United States) as of April 24, 2015. Although they are not the first to come out with smart watches as opposed to conventional mechanical or digital watches, the Apple watch has many beneficial features and useful advantages that users will come to enjoy to use.
One advantage, as with most Apple products, is that their watches appear to be more aesthetically pleasing. Their streamlined, beautiful design absolutely makes you feel like you're wearing a higher quality brand on your wrist. For those people who prefer to allot a higher budget, their version of luxury watches even have gold on them, albeit at much higher prices.
A second advantage is that the watches from Apple reflect the continuing evolution of the internet touch surface from their iPhones, iPods, and iPads.  That is, it's possible to communicate using the Apple watch for those people who prefer to use a more portable, tiny interface instead of those more bulky mobile devices.  One way of communicating with others is to share the location of where you are.  Another way is to talk into the watch just by using your voice.  Likely other niche apps will surface in the future that can further exploit the varied uses of the Apple watch.
A third advantage of the Apple watch, with many people who like to engage in physical fitness programs such as jogging or walking, it can be an ideal complement to their current fitness equipment.  It's convenience wearing this fitness band to include this feature when switching gears from business to recreation or exercise.
Apple has done it once again with their masterful integration of computer hardware and computer software.  They have raised the bar to create a high quality watch for people to wear.  For those who have been waiting many years for this, this is one of the most amazing smart watches ever produced.  Many people will look forward to applying this watch from Apple to their daily routine.
Also check out this Apple Watch Commercial .